Sold Pending Funds.

Damn, I'm going to miss this one...
I hate to sell what has always been one of my favorite guns, but I need to gather up funds for a new Triumph Thunderbird next spring, so this PC945 needs to find a new home.
Itís a Smith & Wesson Performance Center 4Ē 945 .45ACP, with a born/ship date of 6/27/2000Ö2000, by the way, is the
only
year this model was made. It was produced by S&W in both a stainless and dark finish. A conversation I had with the distributor Ė RSR Ė a number of years ago lead me to believe that there were only 250 examples of each produced (or 500 total), though the serial number on this gun is 9XX, so am not sure if the info I was given is correct. In either event, itís definitely an uncommon gun that offers uncommon performanceÖand unlike itís dash-one and dash-two full-size 5Ē brothers (which Iíve also owned), there is no firing pin safety, a feature that makes the famously crisp 945 trigger even better!
If youíve done a search on Google Images for a PC945, youíve probably seen mine:
As the above picture suggests, itís in excellent condition; it has never been carried. No blems, wear, etc. Pretty much a safe queen, and has been treated as such with meticulous care. Itís a flawless performer: 925 logged rounds through it, and Iíve never have a single FTF or FTE. The craftsmanship that S&W put into their Performance Center pieces back when this was produced is nothing short of incredible. I have a Baer Concept V and have closely examined a Wilson, and the fit of this PC 945 is every bit as good as the Baer and the finish on par with the Wilson.
Itís also, I think, one of the best-looking handguns ever produced. American Handgunner did a feature piece on it back in 2000 or 2001, which is where I discovered the model and knew I had to have one: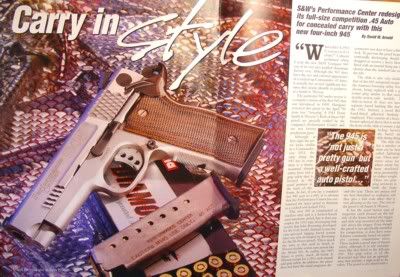 Here are a few more pics: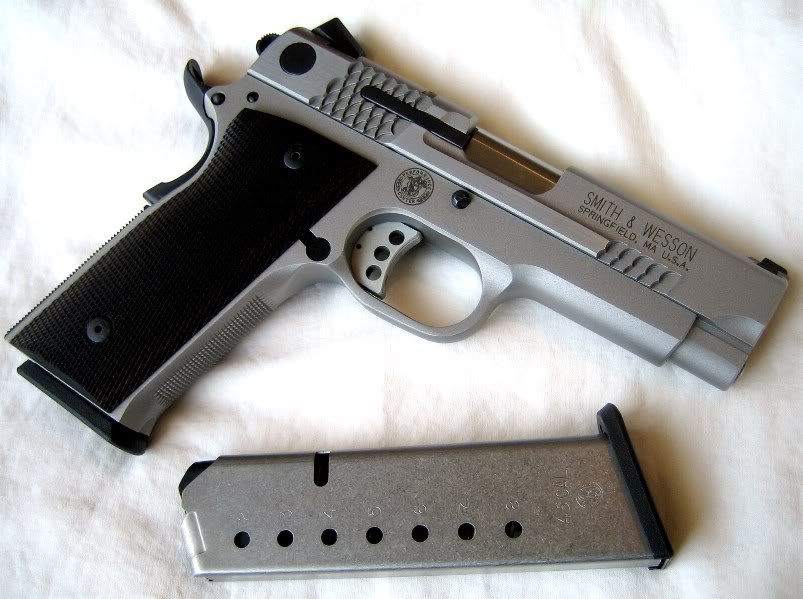 Incredible slide to rail fit shows the care the PC craftsman took with this gun:
Beautifully undercut trigger guard makes for a great fit in the hand: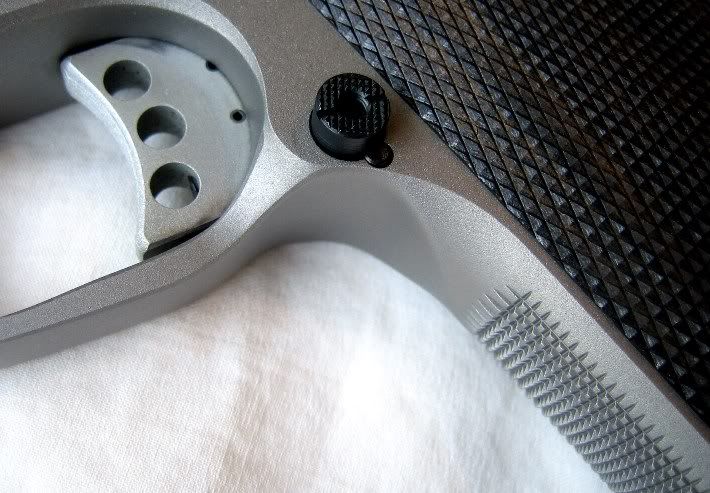 Its Briley bushing (that gold ring) makes for phenomenal accuracy:
$1200 shipped
(includes overnight UPS insured shipping, a $100 cost for me), includes two mags, PC aluminum box, papers, manual and whatever other papers originally came with the gun. PM me with any questions...thanks.