1996 S&W Performance Center/Lew Horton – "Quad Port" 681-4
•#26 out of only 300 made•
S&W Performance Center Tuned Action w/adjustable trigger stop
Mag-Na-Port® Quad Port 3" barrel
7-shot Bead Blasted Matte Stainless Steel .357 Magnum
Round Butt L-Frame with Combat Grips
Included: two H.K.S. 7-round Speed Loaders
Case • S&W Manual
I bought this revolver in 1999 from a very good friend of mine, a retired Marine LTC. He bought it as a self defense gun that he carried concealed. He said he put just under 600 rounds through it by the time he sold it to me. His ammo of choice was Federal Premium .38 Spl. (+P) 158 gr NYCLAD HP.
I used the same round (he included three 50-round boxes with the 681), firing 100 rounds to establish function and accuracy. It was spot on and extremely smooth. It then went into the dark recesses of my safe. In the last 12+ years it has (sadly) only come out to be photographed. Oh I carried it loaded with 7 rounds of snake shot on several hikes but did not need to use it. Thankfully.
It shows slight holster wear in that bead blasted stainless steel tends to turn shinier where there is contact with whatever holster type it is carried. My friend and I both used shoulder holsters as well as OWB models in Kydex, leather, and nylon.
Over the past 10 years I have sent a number of S&Ws back to the P.C. for refinishing (two M27-2 3.5" inchers, one for bright blue and one for renickeling, an M29-3 for bright blue, and an M60 for a mirror polish) and considered sending the 681 with one of the others for a Stainless Blast Bead ($170) refinish. It didn't seem like great idea at the time, but it was nice to know it could go back to 100% finish any time.
It came with the Uncle Mike's finger groove combat grips, while functional and comfortable, they are not "stylish". I have had Sambar Stag*
& Spegal rosewood Boot Grips* on it at times.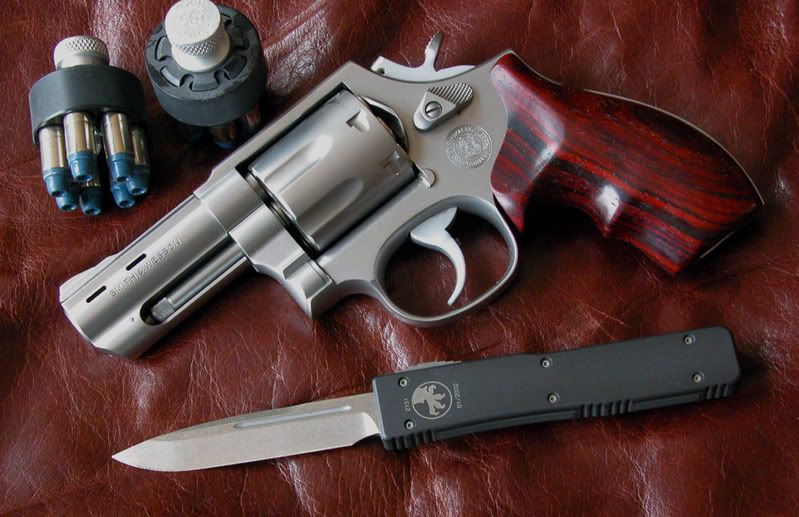 *Sambar Stag and Spegal Boot Grips NOT included with 681-4 package
I am selling this one due to the arrival of our second grandson (now I have to split the "toys" between the two in my will!) and a project my wife and I want to do for their parent's home in New Mexico.
I am intending to put this to auction on GunBroker (I have had GREAT results in the past) in 2 weeks. I wanted to post it here first due to the more knowledgeable S&W owner/collectors on this forum.
The BEST scenario is a face to face sale in the greater Phoenix AZ area. Simple, LESS expense for the buyer and instant inspection/gratification!
Other than that there will be shipping & FFL charges added to the sell price of: $999