Earlier this year I posted some info on my experiences using the machined cases from Dixie Gun Works (see "Shooting A No. 2" from April 20, 2011). I now have more to report on the performance of these cases when fired in the old .32 tip-ups. First of all, I discovered a better method of getting the spent blank out of a fired case. If the case is placed in a Hornady.32 S&W shell holder, with the case backed out a bit from full insertion, the spent blank can be easily tapped out using a small punch. This works because the center holes of Hornady shell holders are larger than same on other brands.
For current testing I used 5.4 grains of Pyrodex "P" in the long cases and 3.2 grains of same in the short ones. I used Hornady .31 swaged round balls, which weigh about 46 grains each, and CCI blanks for priming. Loaded cases in the picture are flanked by an original .32 rimfire short and long and a .32 S&W (short) and long. You know which is which.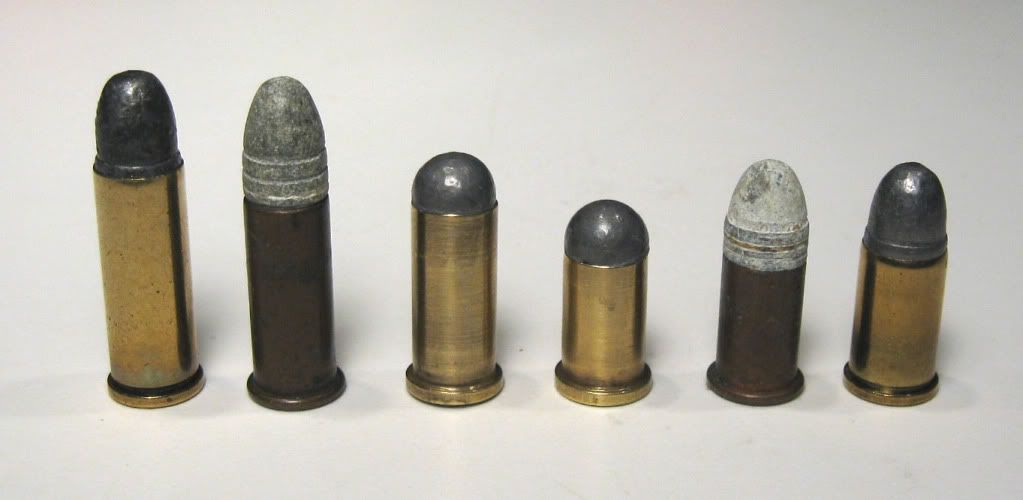 I checked velocities with my PACT chronograph on a sunny day, about 90 humid degrees at the range. Six rounds of the short cases through my Model 1-1/2 (2nd) gave an average of 960 fps with an extreme spread of 45 fps. Six rounds of the long cases through my No. 2 gave an average of 1164 fps with an ES of 121 fps. The highest velocity individual shot through the No. 2 was 1227 fps! Granted that the RB projectile is light, but I was surprised by velocities of this magnitude from 3-5 grains of Pyrodex. Clearly, the charge of the blank is adding more than I anticipated. Accuracy-wise, the No. 2 kept the six shots in 3 inches at 30 feet. The short cases in the No 1-1/2 were quite inaccurate. The machined cases are thick and much stiffer than drawn cases and they do not obturate. The fired cases come out dirty as sin.
Balls launched by the long cases in the No. 2 will punch through three ¾-inch pieces of clear pine and lodge in the fourth piece. A ball recovered from this test weighed 43.2 grains. Firing at close range at the wood indoors produced truly impressive muzzle blast, fire, and smoke. I didn't check the short cases for penetration. This kind of work is fun for me, but not historically very accurate, as the original .32 rimfire long load used a conical bullet of 90 grains and a charge of 13 grains of black. Velocity of that bigger pill would have been much less than 1200 fps.