When the S&W Model 63 first appeared in the 1970s, I just had to have one. I had really liked the Model 34. So, I bought the first 63 I saw at a gun show. I should have examined it more carefully before buying, for it was obviously someone's cast-off.
The front of the cylinder had been faced at an angle, such that it dragged against the rear of the barrel at one chamber and opened to extremely excessive cylinder gap three chambers away. My solution was to re-barrel it. But, I needed a barrel.
One of the older shooters I often encountered at my range gave me his shot-out .22-250 Hart Benchrest barrel. When their accuracy drops off due to flame erosion, Benchrest barrels are usually cut off, re-threaded and re-chambered into undamaged rifling. But, when the barrel has been shortened to near 16", it can be shortened no more without becoming a Short Barreled Rifle under the NFA. So, I got it for nothing.
I sawed an inch off the muzzle, then took the next six inches for my 63's barrel. I turned it on my small Sears lathe at home, in the manner of a PPC heavy barrel, and threaded it to fit my 63, matching the old barrel but left it protruding a bit extra into the cylinder window. I cut a relief notch in the barrel to accommodate the ejector rod. I then squared up the cylinder face on the lathe, cutting it back until the cylinder gap was .003". I cut an eighth inch slot on the top center of the barrel at the muzzle end, into which I glued a front sight I made out of an eighth inch thick steel washer using a file. Then it was off to the range for test firing.
This 63 shot so well, I wanted to scope it to explore its capabilities. So, I drilled and tapped the barrel for mounting a Tasco 2x pistol scope.
On ground squirrel and jackrabbit hunts during the '80s, one of my shooting buddies started calling it the Death Ray. A bit over-dramatic, perhaps. But, it was clear this 63 had made quite an impression on him, as well as on the jacks and ground squirrels.
Check these results at 50 yards, single action over sandbags, in more recent times: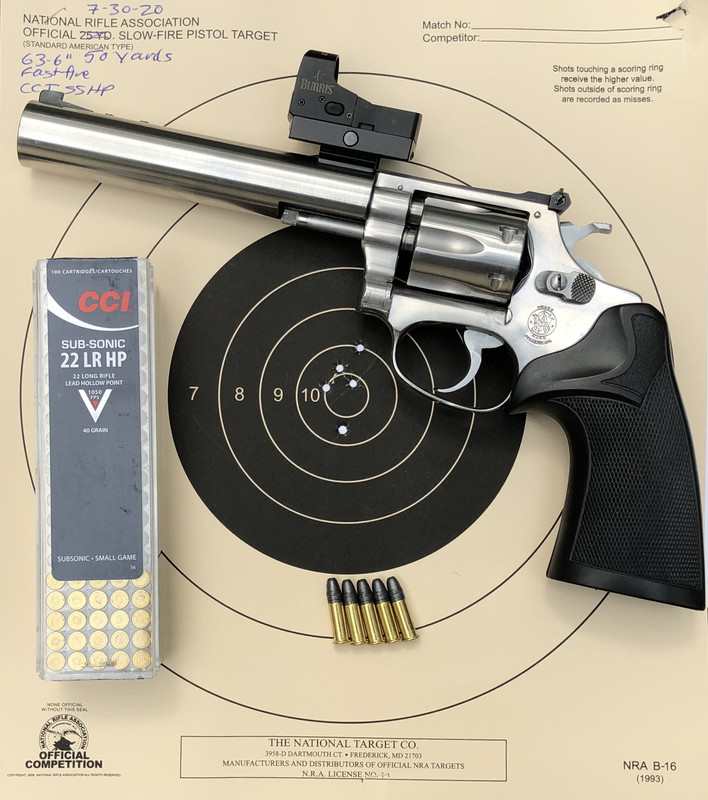 I switched over to the Burris FastFire reflex red dot this year, because my eyes can no longer easily resolve the target in the crosshairs at 2x to sufficient advantage, and any stronger magnification has crosshairs bouncing around too much. But, back in the late '90s, when my eyes were better, with that 2x Tasco, I could keep five RWS Hollow Points close to a half inch at 50 yards, with the best being five shots into 3/8 inch. Not quite as tight these days, but still not bad.
.