Yesterday I went to the range and squeezed off approximately 70 rounds just to get familiar with my "new" 620. The revolver shot beautifully with one small exception. One of my reloads failed to fire. I had noticed that the firing pin strikes were much lighter than what I was used to with my model 10 but thought little of it until I had the misfire. I ran the round through three times and it appeared dead as could be. I squirreled the round away and went back to shooting without rurther failure.
I was wondering if I had my first misfire due to a bad primer in 45 years of reloading. The thought bothered me as I have grown to trust my reloads without question. When I got home I pulled the bullet and this morning after the wife left I shoved the primed case into my mod 10 and it fired perfectly.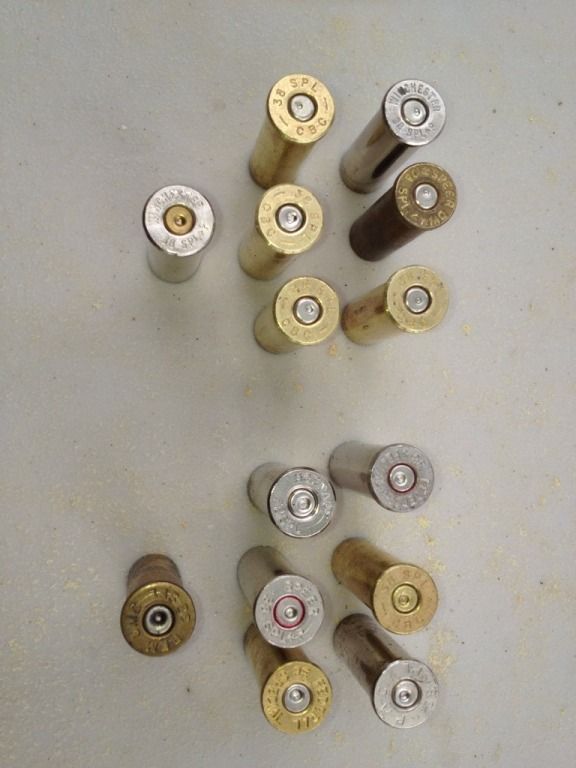 If you look at the top group of cases you can see that the primer strikes are light with exception of the nickel case with brass primer and the brass case directly beside it that was fired in my model 10.
I took the revolver back to the dealer where I bought it and they opened up the gun and found a aftermarket main spring in the revolver.
At my request the smith replaced the mainspring with an OEM spring. The group of cases at the bottom are the mixed lot of rounds they ran through the pistol. The primer strike is noticeably heavier but I have tried dry firing it and the trigger is just as nice as it was before. We will see how she does. Regardless the shop warrants all their used guns for 1 year from date of purchase.