This expenditure is all bad_man_ one's fault
A few years ago when he started playing with the 4013/4014 and CS-40 conversions I acquired one of each pistol to turn into 10MM Autos.
I am not really sure what took him away from the Forum, but my pistols sat for quite a while. Last year someone sold off a 1013 barrel and springs. So I was able to get my 1014 up and running.
It was not so easy with the CS-10 conversion because the spring was unknown. So my CS-40 sat for a couple of years waiting.
Then a Forum member came along a few weeks ago with a manufacturer and part number for a spring that works for the CS-10 conversion.
Well it got me going again. As the time had passed I purchased a reamer for 10MM. I had 3 S&W revolvers chambered for 10MM Auto that I wanted to open up for 10MM Magnum so I did it myself instead of sending it off. (It is not that I can't do the work, sometimes it is easier to give up a small amount of cash than the time for the project)
Less than two days after learning about the springs and ordering them, a CS-40 (blue) shows up here on the Forum at a decent price. Plus it is located in the neighboring county. So I drove down and bought it. The holster that came with that deal is being offered in a Karma here on the Forum
Over that weekend, while I was waiting for the springs and buffers to arrive I hand reamed both barrels to accept the 10MM Auto cartridge. I also broke the spot welds and removed the spacers from the magazines.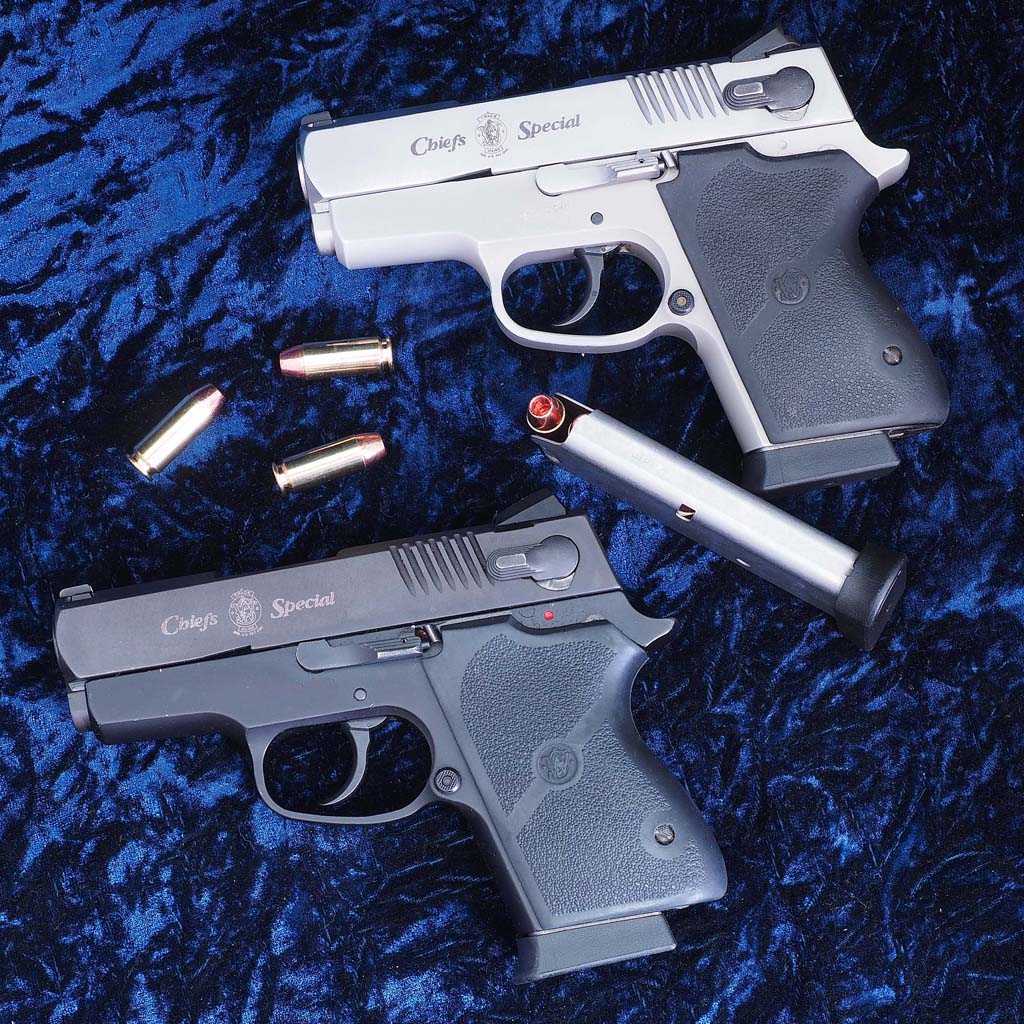 I was very pleased with the way they shot. Recoil was not objectionable, at least for me.
I use the PPU 180s to start. They are not full power. I also shot the 175 Silvertips and the NEW Barnes 155 JHPs that are pictured with the pistols.
I have another case of the Barnes on the way along with some of the Federal offerings. In the next month or so, I will spend a day at my buddies farm and chronograph various factory and handloads through 10MM Autos with barrel lengths ranging from 3 1/2" to 14" just to see what I can learn.
I wish Smith and Wesson had stayed in the 10MM game over the years instead of popping in and out every now and then with a revolver. An M&P chambered in 10MM Auto would be a nice carry piece.